A step-by-step guide on how to buy sushi-grade raw fish for making sushi or poke bowls.
Have you ever wanted to make homemade sushi or poke bowls at home but felt nervous about the idea of buying raw fish fit for consumption?
That used to be me. But now I confidently buy sushi-quality raw fish on a regular basis.
There are some important steps and considerations learning how to buy high quality fish for raw consumption. I'm going to take you along with me on my experience buying raw salmon and tuna for sushi and poke bowls.
How Buying Sushi-Quality Raw Fish Saved Me Money
When I first started making sushi at home a couple years ago, I was a little (okay, a lot) intimidated by the idea of incorporating raw fish.
I thoroughly enjoy raw salmon and tuna in sushi and poke bowls, but I was worried about goofing up and giving myself food poisoning. So I stuck with creating veggie sushi rolls or with cooked meat.
Making sushi at home actually saved me a lot of money compared to what I'd been spending ordering out every time I had a sushi craving. And then last year, I discovered poke bowls.
The main star of a poke bowl is the fish. Raw fish (typically tuna or salmon). And it. Is. Delicious. With every bite, my taste buds were in pure heaven. My bank account however, was not.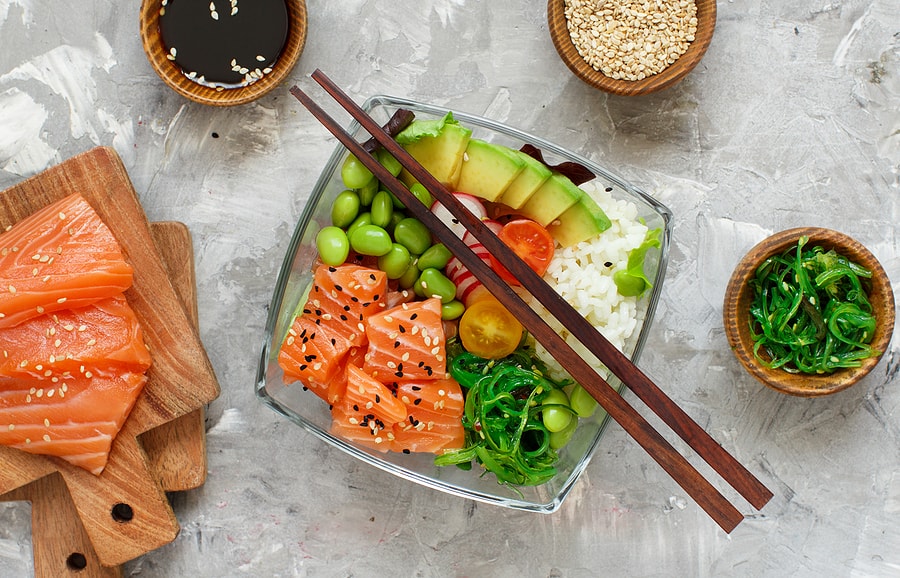 If you enjoy sushi or poke bowls, you'll know that they can really start to take a toll on your budget.
One day I sat down and added up how much I'd been spending eating out and was shocked at how much a poke bowl a couple (okay, sometimes 3-4) times a week added up in our monthly budget.
T'was a lot. Way too much, as far as I was concerned.
I figured if I could learn how to make sushi for myself at home, I could figure out a poke bowl. Including tackling the most intimidating aspect: Buying sushi-grade raw fish.
Fast forward to now, where I can enjoy fresh poke for about 1/4 of the cost of what I'd been spending before. And not gonna lie, my homemade sushi is about 10 times better with raw fish.
Learning How to Buy Sushi-Grade Raw Fish
Learning how to buy raw fish for homemade sushi and poke bowls has saved me so much money. I get to enjoy some of my favorite dishes on a weekly basis without blowing my budget. Now I actually buy raw salmon and tuna about once a week.
It wasn't as scary or complicated process to find sushi-grade fish near me as I had imagined. But there are definitely a several very important steps along the way if you're considering the idea of buying raw fish for consumption.
I believe there are six foundational components of knowledge in learning how to safely and confidently buy raw fish.
Understanding what makes raw fish "sushi-grade"
Finding a trustworthy fish market
Knowing the right questions to ask at the fish market
How to inspect raw fish for freshness
How to transport and store the fish
How long raw fish for consumption lasts
We're going to cover each of these points in detail within this post.
This article is very detailed for a reason. It's not as simple as "just walk into a store that sells fish and either look for a label that says sushi grade fish and there you go". (That could be a good way to get food poisoning, or worse, a parasite.)
I don't buy just any old fish for homemade poke bowls or sushi. So today, I'm walking you through my journey learning how to buy high-quality raw salmon and tuna in my area that was safe for raw consumption.
---
Disclaimer: If you choose to incorporate raw fish into your diet, you do so at your own risk. This guide is for informational purposes only and based on my own experience buying raw tuna and raw salmon for my consumption (not any other kind of raw seafood or shellfish). While I enjoy incorporating raw fish into my diet, you have to make the decision whether or not it's right for you.
---
What is Sushi-Grade Fish?
While people have been consuming raw fish for centuries, the terms "sushi-grade" and "sashimi-grade" fish are relatively new. Truth be told, they don't mean a whole lot (but for the purposes of this article, I'll be utilizing them).
The terms were originally created by the wholesale fish distributor industry for marketing purposes and don't actually reflect any kind of national standard for consumption.
While the FDA provides a general advisory guideline for handling various fish meat for raw consumption, there isn't a set standard or guidelines to determine "grade" or quality raw fish for consumption. Which is why when you walk into a seafood market, you may or may not see labels like "sushi-grade" or "sashimi-grade".
So what determines if a piece of fish for sale is safe to consume raw? The fish market selling the meat. Which is why, if you're considering buying fish for raw consumption, you'll want to do your due diligence researching trustworthy fish markets in your area.
How to Buy Sushi-Grade Raw Fish
Not all fish meat is fit for raw consumption. It's very important to find the high-quality fish if you plan to consume it raw. Any old piece of fish from your local grocery store may not be your best bet.
When I decided I wanted to learn how to buy sushi grade raw fish, it began with some research on local seafood markets in my area. I specifically looked for local places that offered sushi-grade raw fish and had positive reviews from other customers.
I also called local sushi and poke restaurants in town to ask where they bought their fish. Some restaurants were willing to share which vendors they used, others were not (although I did learn some interesting information about how they bought, stored and handled the raw fish they used for sushi and poke bowls, which we'll get to in a bit).
After quite a few calls, Googling and cross referencing, I settled on a local family-owned fish market that sold "sushi-grade" fish near me.
Finding a Quality Fish Market for Sushi-Grade Fish
You can actually look up the food grade for local markets, grocery stores and restaurants in your area online. It's quick and easy to do. I went through the Department of Health and Environmental Control for my state and used their food grade database to look up the health inspection history of the fish market I intended to visit (they had a solid history of grade-A ratings).
When I arrived at the market, I took a look around and asked myself a few questions:
Did the facility seem clean and well maintain? (Yes.)
How did it smell? (Fishy, but not in a decaying way; more of a fresh marine environment aroma.)
How the fish for sale was being stored? (Whole fish buried in ice, fillets set over a bed of crushed ice and separated from touching one another.)
The next thing I wanted to do (since it was my first time in that market) was speak to a staff member to ask a few important questions before purchasing raw fish for consumption.
The Right Questions for Buying Sushi-Grade Raw Fish
The market I decided to use was small business owned and operated by a local family. So I actually had the opportunity to meet one of the owners when I went in person. (Although you could always try calling ahead to speak to a owner or manager.)
Is this fish safe for raw consumption?
In my experience, many fish markets will tell you "yes" here. But still, I feel it's better to ask and hear an affirmative answer vs a negative one (or answer like "uh, I don't know").
Was the fish wild caught or farmed?
In most cases, when I buy salmon I'm planning to cook, I look for wild caught or freshwater salmon (since farmed salmon is significantly higher in saturated fat and calories than wild salmon). But for fish I plan to consume raw, I actually want farmed salmon (or tuna).
In the research I've done prior to buying raw fish, I learned these types of farmed fish are less likely to contain parasites than their wild counterparts (particularly freshwater fish). I like to ask where the fish I'm buying was sources from, if it was wild caught or farmed and then go with the farmed option if available.
Has the fish been frozen?
Believe it or not, this is actually very important information to know before buying raw fish for sushi or poke bowls. Before doing my research in how to buy sushi quality raw fish, I hadn't realize the significance of why whether fish meat had been frozen or not mattered so much when it comes to eating raw fish.
Should You Buy Frozen Fish Meat to Eat Raw?
Do you ever see those labels "fresh, never frozen" on fish at the grocery store? It's a marketing technique geared towards getting consumers to think there's a higher quality associated with "never frozen" fish. But if you're planning to consume fish raw, you may be better off going with fish that's been frozen at some point.
Raw meat in any form (from the sea or land) carries the risk of containing parasites. It's not uncommon at all for animals to carry parasites whether they're wild caught or farm raised meat (although some research I've come across associates a higher risk for parasites among wild-caught).
So how do people consume raw fish in a way that minimizes the risk of parasites?
It's fairly simple. You can cook it or freeze it. When you cook meat, you expose it to temperatures high enough to help kill any possible parasites. Similarly, when you freeze meat you expose it to temperatures low enough to help kill potential parasites.
This is why frozen fish is your friend when it comes to sushi and poke bowls. In my initial research speaking to local restaurant owners and managers, I learned that freezing fish intended for raw consumption is a regular practice among sushi and poke restaurants. When I buy fish I plan to eat raw, I want fish that's been frozen at some point.
Should You Buy Whole Fish or Fish Fillets?
Some of the research I did via the internet suggested buying whole fish and butchering it yourself for optimal freshness and quality control. While it seemed like solid plan in theory, I was less than enthused by the idea.
Sure, in an ideal scenario, I'd buy whole fish and inspect it for freshness as I butchered it myself. But if, like me, you aren't exactly a master fish-butcher (and don't want your kitchen smell like a fish market), you may feel like opting to buy pre-cut fish fillets.
Is using pre-cut fish fillets for sushi and poke recipes risky? Probably about as risky as consuming raw fish in any form.
In talking to local restaurant managers, I learned that it was also common practice among the sushi and poke restaurants in my area to purchase both whole fish and pre-butchered fish fillets.
That information gave me more confidence in buying pre-cut fish, since I'd been eating raw fish at some of those restaurants for years without issue. So far in my experience, I can say I've purchased and consumed raw fish from pre-cut fillets without any issue. Of course, you have to decide which option is right for you.
How to Inspect Raw Fish for Sushi Quality Freshness
You need to utilize three types of sense when inspecting fish for sushi level freshness:
Sense of sight
Sense of smell
Good ol' common sense (haha, see what I did there?)
How does the meat look?
I want to see three things when I'm looking at raw salmon or tuna:
Clean (stored in ice and displayed and handled in a sanitary manner by the staff)
Fresh (not mucky or foggy)
Vibrant (not graying or discoloration)
How does the meat smell?
Yep, you're going to want to take a whiff. I'm looking for fish that smells fresh (like a salty ocean breeze). I don't want consume anything raw if I notice an overpowering "fishy" smell (that's stinky or unpleasant).
If a piece of raw fish sets off any red flags that make you question its level of freshness, make sure you're also employing a basic level of common sense and pass on it.
Transporting and Storing Raw Fish for Consumption
The way you transport and store raw fish for sushi or poke bowls at home matters as much as the way the fish market stores their fish. I always keep my raw fish packed in ice to help maintain freshness.
The market where I buy my fish always bags up my fish fillets so they stay surrounded in a layer of ice (you could also bring a cooler or waterproof lunch bag to transport you fish). From there, I go directly home and store the fish in my refrigerator. I make sure to keep the fish on ice until I'm ready to use it.
How Long Does Raw Fish Stay Good?
As a general rule of thumb, it's always best to consume your sushi-grade raw fish the same day that you buy it. Once again, if you're going to take the risk of consuming raw fish, you have to use some common sense and operate within your personal comfort zone for consumption.
That being said, I will say that I've kept raw salmon and raw tuna on ice and consumed it without any issues at my own risk for 2-3 days after purchasing it.
Each day I make sure to add more ice to replenish any that had melted and use the three senses (sight, smell and common sense) to assess the freshness before consuming. If I don't think the fish is fresh enough to consume raw, I simply cook it up and enjoy it baked or sauteed.
Ready to put that sushi-grade raw fish to use? One of my favorite ways is by making sushi! I started making sushi for myself at home a couple years ago. It's been a great way to enjoy sushi on a weekly basis without blowing our grocery budget out of the water.
It's easier to make a basic sushi roll at home that you might think. I have a complete step-by-step guide on making sushi for beginners you can find here.
Final Thoughts on How to Buy Sushi Grade Raw Fish
I hope you've enjoyed coming along with me on my experience learning how to buy sushi-quality raw fish. I now regularly enjoy making sushi and poke bowls on a weekly basis. It's even helped me save money in our eating out and grocery budget.
There are definitely some things to consider when deciding to buy raw fish for consumption. Each person has to decide if it's the right choice for themselves.
I can definitely say buying my own raw fish for home recipes has been a positive culinary experience for me this year (and one I plan to continue enjoying for years to come).
Related Informative Nutrition Articles
---
All writing copyright © 2020 Rachel Elise Woods. Images copyright © Bigstock Photo.